When more and more companies make the transition to the cloud and Office 365 they might also need to consider how their documents and fonts might be affected by it. I have recently discussed with several clients how a mixed environment where some users get E3 (including Office 2013/365 Pro Plus) and some get E1 (including Web Apps only) might affect documents and work situation in an organisation. If you are considering a custom font for your organisation, please consider the information below.
In this post we will look closer at how custom fonts will behave when being used in Office and/or Office web apps.
The number of fonts being available in an Office application like Word is depending on a few things. It will be the sum of the fonts available in the specific Office version and the specific Windows version (or other operating system). Fonts may also be installed with other applications. Hence, the font list will differ from computer to computer.
When it comes to Office Web Apps they come with a selection of fonts and they will not show any custom fonts as the regular Office applications does.
If your Company is using custom separately installed fonts, they will currently not show up in the web apps. You can make them visible within documents that have been created and saved with these fonts embedded from a regular Office application like Word or PowerPoint but a user who mainly works with the web apps can not create such a document. .
This is how fonts are handled by Office 2013/365 ProPlus
Each time you use a different font in Word/Powerpoint the selection is tagged to use that x§font. The font is normally not stored within the document but will be used if it exist on the computer where the document is opened.
If the computer does not have access to the font that the document is marked with Word (or Powerpoint) will use a substitue font. You can not control which font it will use. If you suspect that you are not seeing the right font you can check if Word uses a substitue font. This can be done via File, Options, Advanced and Font substitution.
If you need to use a font that is not a part of the installed fonts you may buy or download another. If you want this font to be visible when you send your document to someone else you will need to embed it to the document.
Fonts will only be embedded if they have the correct embedding license:
Licence levels for fonts in Office documents
A font is delivered with one of the following licence levels:
None– Cannot be embedded.
Print/Preview – Can be embedded bat cannot be edited on a computer that does not have access to the font.
If you open a document where an embedded font has Print/Preview license level Office will show that it cannot be edited until the fonts are removed (=replaced):


Editable– The font can be embedded and edited on another computer but the user cannot embed the font in another document or reuse the font.
Installable– The font can be used freely and embedded in any document or installed on any computer.
Font family?
Another thing that controls the ability of a font to be embedded is which family it belongs to. There are mainly two font families. Postscript and TrueType. Fonts today are often called OpenType but they origin from the two original families and will have font outlines based on TrueType or Postscript. The only fonts that can be embedded in an Office document are fonts that are TrueType or OpenType with TrueType outlines.
This means that if you want to embed a font to a Word or PowerPoint document it needs to have TrueType outlines and a license level that are editable or more.
You will find the fuction to embed documents in the Save dialog box if you choose Tools, Save Options and select the Embed fonts tick box.
Embedded fonts in Office Web Apps
As mentioned above the Office Web Apps have a limited number of fonts (at the moment). If you have access to doucments with embedded fonts these will look OK as long as you are viewing a document but as soon as you click Edit in Word Web App the fonts that you use to edit your document will be one of the standard fonts.
This means that your document might look different depending on if you are viewing it or editing it. It might also make it a little harder to see the end result of a document since you can't see its final look in the edit mode.
Below, embedded fonts showing up i preview mode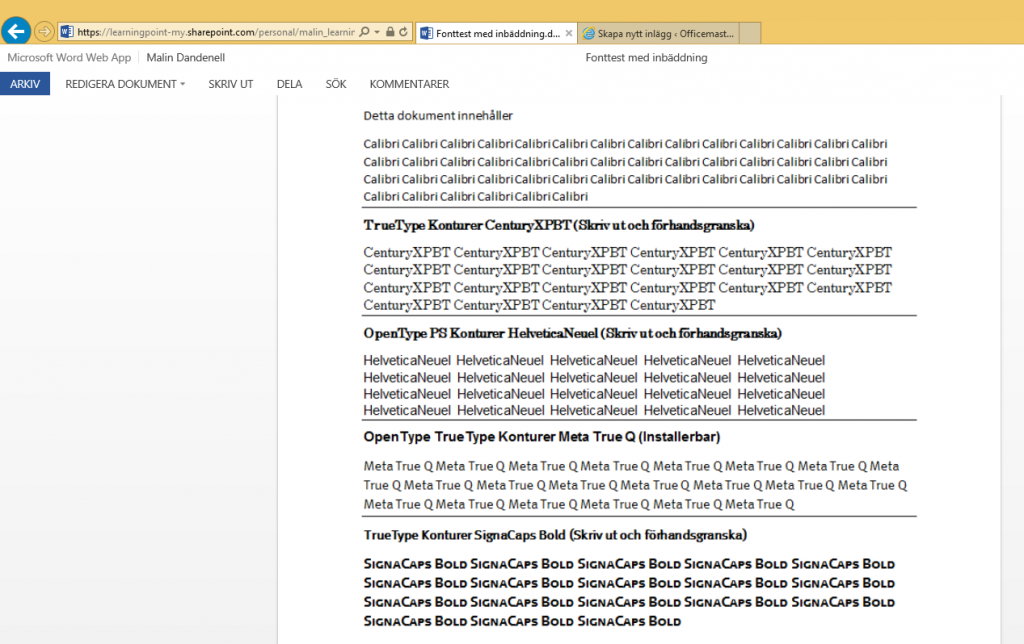 Below, embedd fonts in Edit mode in Word Web App – note that the fonts are not showing: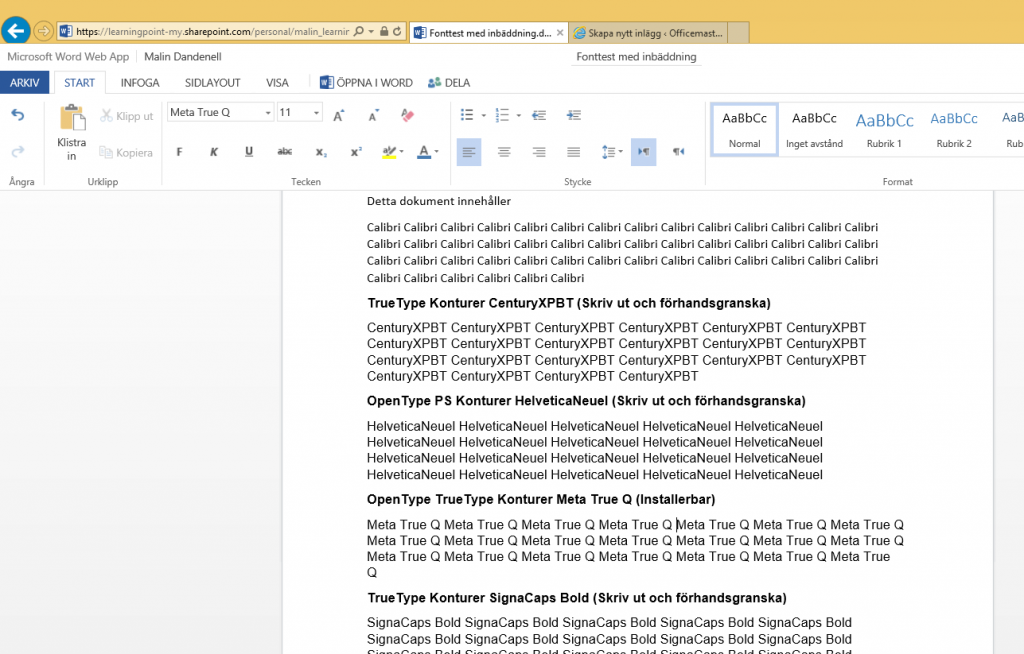 And…
Even if you follow all the rules and embed fonts correctly your documents might still appear with replacement fonts at users who are still using old version of Office (2003 or older) since newer file formats must be opened up via a converter in these Office editions. The converter that is used by Office 2003 will transfer the document thruogh a RTF format where embedded fonts are deleted so this might also be something to consider when choosing fonts for an organisation.